During the past months, construction management around Finland have had the same problem: how to make it possible for people to visit the construction site without the need to come physically to the site.
Together with partners eSite has brought a solution to this problem. Our eSiteview solution:
Makes remote visits possible – from laptops or mobile phones.
Is delivered as a service – where no effort is needed from people at site.
No upfront investment needed – start the use and collect the payback from day one.
Is up to date – the site can be captured even on daily or weekly interval.
Read more on our eSiteview solution: Visiting industrial sites remotely is faster and easier than ever!
Some of the high value use cases reported during the first months of operation include for example: checking installation dimensions before coming to site to perform installations, monitoring the construction progress to know whether the next phase of work can start as scheduled, extracting "as-constructed" 3D data to BIM to correct possible design errors in later phases, improving communication between contractors related to site safety or better planning of scaffolding for specific work. New use cases are discovered every day!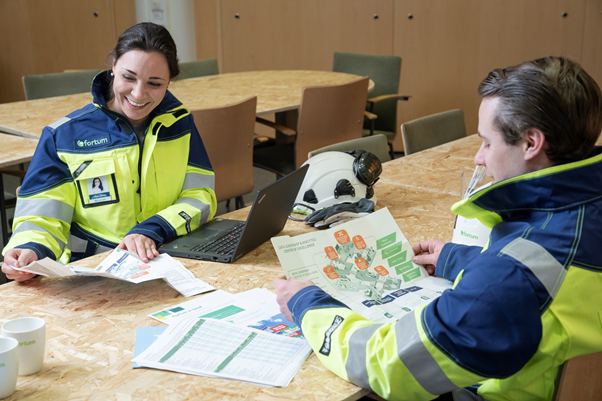 Different technologies to digitize construction sites have been available already for longer time. However, the lack of credible service providers with decent pricing and the right business model has prevented remote visits to sites from becoming best practice in construction industry in Finland. This suddenly became a real problem during the first wave of COVID19 and will become a similar problem during the possible next waves.
To solve this issue, eSite has worked hard throughout this year with our partner Ramirent, to bring to the market a solution to improve the efficiency of construction sites by digitizing them on a regular interval (e.g. daily, weekly or monthly interval). We combined Ramirent's existing presence at major construction sites in Finland and eSite's cost effective reality capture solution to deliver a high value, low cost, continuous digitizing service for construction sites. This way we will improve the competitiveness of Finnish construction industry especially now and tomorrow when construction sites cannot be visited as easily as before.
Ramirent is the leading equipment rental companies in the industry. Their services are available all around construction sites in Finland and abroad. For more information about Ramirent and their Rami360 service, please visit their website and read their Rami360 news.
The journey doesn't end here…
We see that we have just touched the tip of an iceberg and we don't see jet the full potential this new way of digitizing construction sites will bring. That's why we continue to search for new use cases and challenging the old ways of working.
One way of doing this has been to involve tomorrows workforce, today's students to this innovation and co-creation. eSite does this trough cooperation with schools and universities. We participate in their education by providing realistic industrial environments where practical work life learning can happen, safe and efficient (e.g. when visiting real plant environments is not practical due to increased safety procedures). We believe that the close cooperation between schools and industry with the help of reality capture will have a big impact on the vocational and work-related training in future.
One of our initiatives is focusing specifically in discovering the hidden value of virtual visits to construction sites. For the second consecutive year, eSite participates in the Metropolia University of Applied Sciences innovation course, where we have provided the reality capture solutions for the students to innovate and discover the value it has in different industrial cases.
This year the course has two focus areas. The first is to study how industrial construction sites can work efficiently and safe now and, in the future, when traveling to the sites is not always an option. The second focus area is to study how industrial plants can perform critical safety walks without traveling.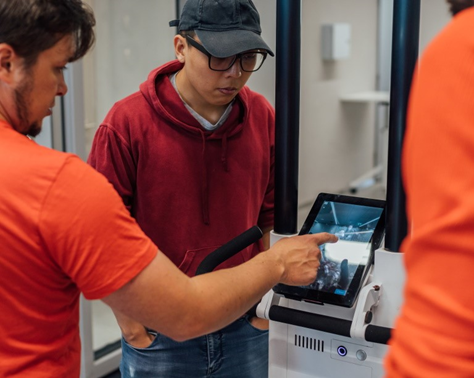 It is great to see how actively and in a concrete way, students of today grab the challenges given to them. They use the latest design thinking and innovation frameworks to drill into the heart of industrial use cases. They are interviewing end users, performing reality capture themselves, making mockups and collecting tons of end user feedback to validate their value propositions.
The students target is to identify the highest value use cases for the industry and construction sites and build compelling value propositions for them. The course is just ongoing, started in the beginning of September and will end in mid December. Below you can see a collection of some preliminary findings from the students, advantages of implementing eSiteview at construction sites: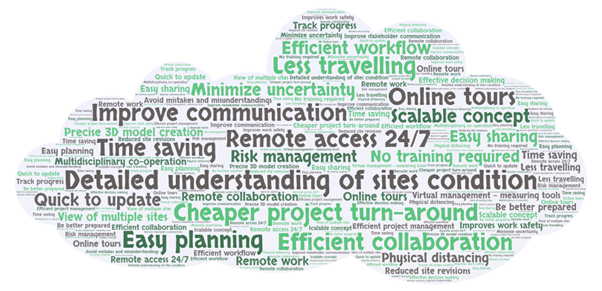 If you are responsible at a construction site, near or far, that would benefit from having the possibility for people to visit the site remotely, why hesitate? Contact us and ask for a quick web demonstration or even a free site visit during which we already can digitize your site.
Keep posted
If you want to stay tuned on how we progress on our road-map; with new use cases, reference projects, and new partners, please subscribe as follower to our LinkedIn account and visit our web page.
This has been an article in our article series "capture your site, control your world". Participate to the discussion and give your opinion on what should be the subject for our next article, it will be published on 28.10.2020. Stay tuned and like our LinkedIn posts at eSite