Together with partners, eSite rolls out a new service concept to digitize industrial plants and construction sites faster and easier than ever before.
The new concept is created to digitize sites with a new 10X factor and is already available all-around in Finland.
During times when travelling to a site is not the best option, eSite digitizes industrial plants, and construction sites in days and makes this virtual site easily available through browsers and mobile devices.
We make it possible for operators, maintenance staff and contractors to visit the virtual plant from their own computer as well as to search and navigate at the site, take pictures, take measures, add information, and collaborate with others.
This improves safety, reduce operating costs, and ensures that projects are delivered in time and within budget.
"Love the problem, not the solution"
During the past months, we have spent majority of our time in the field, learning the way people work at and around operating plants and constructions sites. We have fine tuned our concept while digitizing over fifteen full-size industrial plants as well as talked with operators, maintenance staff, contractors, and industrial service providers to understand what their challenges are today and how their daily work could be improved now that traveling to the site is not always the preferred option. We have put our global field service network into test in nine different countries, even to the extent where we digitized three different sites during the same day, each in a different country.
Now, we roll out our re-engineered eSite solutions – that are immediately available around all major cities in Finland.
We worked hard to boil down the problem worth solving – "how to visit industrial plants and constructions sites remotely, during times when travelling to a site is not the preferred option".
We practiced long days how to solve this problem, and as the result, we learned to join the best partners together. Now, we roll out our re-engineered eSite solutions – and they are immediately available around all major cities in Finland, including Oulu, Kuopio, Jyväskylä, Tampere, Kokkola, Turku, and the whole Uusimaa region.

10 X faster, easier, and more secure
We have gathered professional companies around operating plants and constructions sites together to deliver a whole new service model that is already available all around in Finland.
10 x better is our objective – 10 x faster, easier, cheaper, and more engaging of your stakeholders. Our new eSite solutions have been created from this point of view.
• It addresses verified needs of people working at operating plants, constructions sites, and key service providers around them.
• Plants and construction sites can be digitized faster than ever before – even during one day.
• This virtual site is accessible with normal web browser or mobile phone.
• The site can be visited remotely, pictures can be shared, accurate measures can be taken, and documents attached into locations at site.
• The digital model can be maintained up-to-date – updates can be done for example weekly, monthly or yearly.
• The solution is scalable and enterprise ready – everything between an individual projects and an enterprise wide roll-out.
• Suitable for safety critical industries – the service includes secure cloud solution that is also available installed on premises.
• Does not need any up-front investment or development – the payback starts from day one.
• Engages stakeholders around the sites to work more effectively together based on 100 percent accurate situational picture of the conditions at site.
What is also new is that the once captured site can now be maintained up-to-date – updates can be done for example weekly, monthly or yearly, depending how often changes occur at the site.
Collaborations with partners for high value services
Innovation is born form collaboration, which is why our re-engineered eSite solutions joins the best professional companies around the site together to work for the best for the plant and construction site.
This way we can together delivery new valuable services, build on top of the core competences of our partners. In practice this means integrating our partner's services with the most efficient reality capture technologies and delivering them on best cloud platforms to ensure world-class data security and scalability.
As a result, we stand out from the crowd together with our partners because we:
• have local experience and local resources
• deliver immediate added value
• have low or no up-front investments
• have relevant, valuable content to delivery from day one
• have integrated to existing work processes and plant systems
• have a plant model that is kept up-to-date even when the plant and site changes
• have secure, scalable, and enterprise-ready platform
• can most likely solve your challenge – whatever the need for a visual digitalization of your plant is.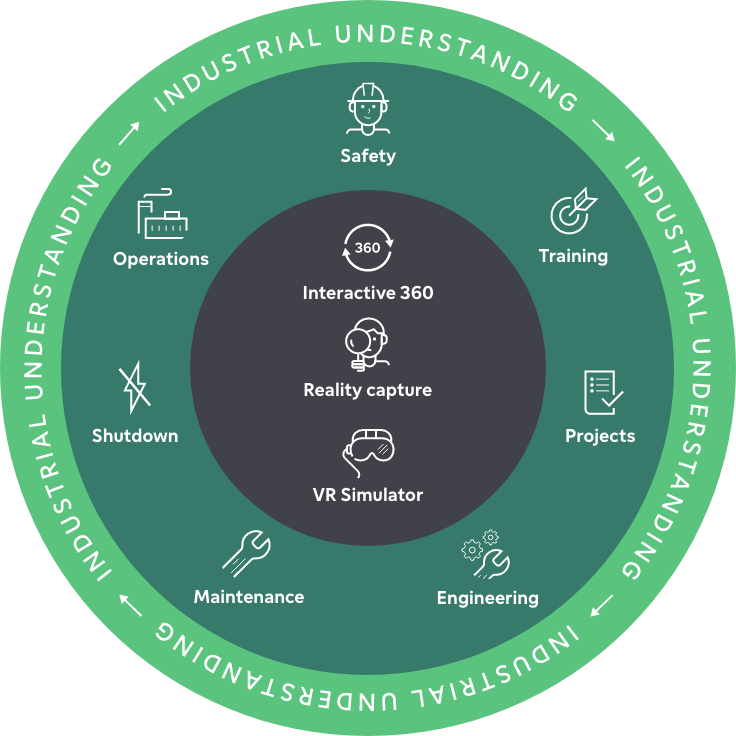 Our partners
We are proud to introduce some of the partners that have joined us on our journey.



Ramirent is one of the leading industrial equipment rental company. The vision of Ramirent is to offer an unbeatable service experience in equipment rental and services at construction sites.
Now Ramirent can offer a wide scale of digital solutions to support construction sites. These includes for example site planning, logistics, moving, progress, and productivity.
With their local service network, Ramirent services are available to all construction sites, small or large, all around in Finland.


Valmet is the leading global developer and supplier of technologies, automation, and services for the pulp, paper, and energy industries.
Their 13,000 professionals around the world work close to their customers and are committed to moving our customers' performance forward – every day.
Now Valmet and their customer mills, plants and construction sites are closer to each other than ever before – regardless of the challenging travel constraints. Valmet experts can support the site (e.g. operators, contractors and installations companies) remotely and the accurate digital plant model can be integrated with other Valmet digital systems to support operators, maintenance staff and installation companies.



With Microsoft Azure, eSite has been able to build a SaaS service that is agile, fast, easy to start and secure to use at the same time – enterprise ready in other words.
Azure is global. Azure is local.
Now together with Microsoft Azure we can deliver work class data security, enable easy collaboration between stakeholders, and integrate to other critical plant and site systems.
By building on top of Microsoft Azure, eSite will stay in the upfront of development and continue delivery world class solutions for long time to come.
"The way we can today digitize plants and construction sites, in days, is a game changer. We will make it possible for people and companies around operating plants and construction sites to work more efficiently and safely – in many cases completely remotely.
The timing for this couldn't be any better – today, when travelling to a site is not always an option.
Today we invite plant owners and operators as well as service providers around them to join the change. We will start in Finland and demonstrate how operational excellence and safety can be improved during times when traveling to the site is not the best option." – Miko Olkkonen, Head of eSite
If you are a plant owner, you can get your site digitized 10 x more effectively and provide a common remote work platform for all the parties in need to visit the site.
If you are service provider, you can make your current services more valuable and relevant in today's changing business environment as well as digitize your client's site and build your own added-value-services on top of your client's virtual site.
Contact us and find out how you can use the re-engineered eSite solutions to digitize your own or your client's sites for more cost-effective work. Let us demonstrate what the new service concept is all about.
We will keep you posted
If you want to stay tuned on how we progress on our road-map; with new use cases, reference projects, and new partners, please subscribe as follower to our LinkedIn account and visit our web page.
Our next article " Three reasons why we digitized a power plant in one day" will be published on 3.9.2020.