Fortum has been one of the front-runner companies that uses innovative technologies and put them into practice to adapt effectively to current times. Since travelling to the physical locations is no longer an option, Fortum plants are digitizing their sites and using eSiteview to visit them remotely. Along the road, we have had many success stories, but we would like to start by sharing few of our most valuable use cases.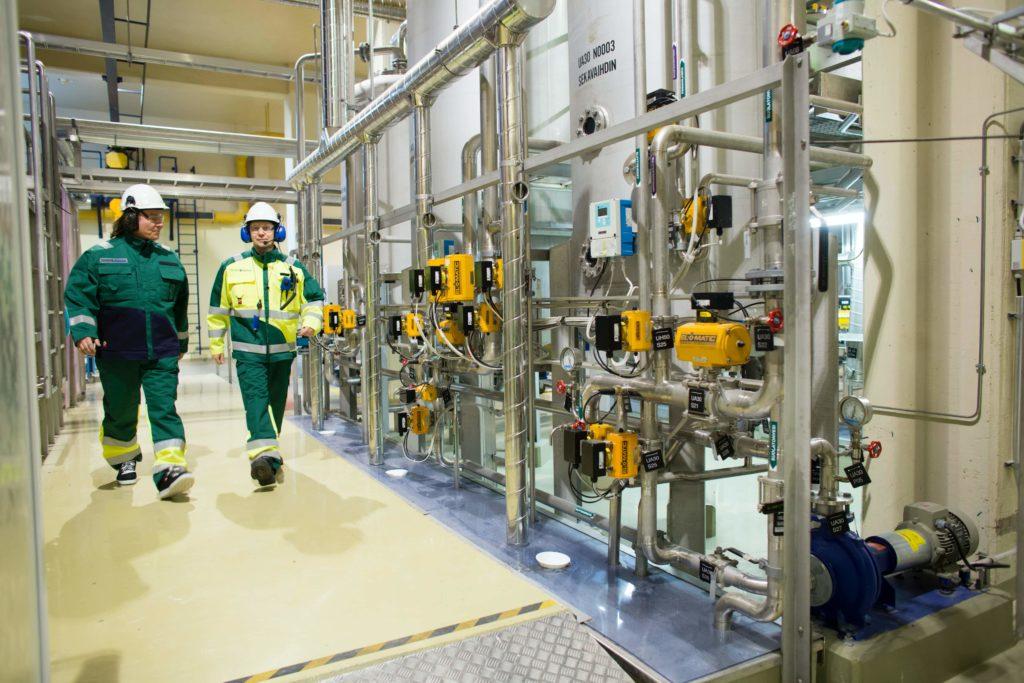 Some of the plants that are using eSiteview are: Pälli and Utanen hydropower plants. One of the reasons to start the projects was that they realized that working on-site was not safe anymore due to the pandemic. Travelling to the site had to be minimized while keeping operations up and running as effectively as always. Other reasons for implementing eSiteview were giving critical information to supplier candidates during tenders, and to measure accurately and remotely the dimension of certain areas for later modifications.
"With a digitized plant you can see the areas as many times as you need and catch details that you might have overlooked with only one physical visit to the site"

Jani Pyykönen, Project Manager for Utanen HPP Units 1 and 3 refurbishment project.
Depending on the plant size and conditions, the scanning can take even less than a day. Our experts walk through the site, examine the environment surface and start building the digital twin piece by piece. During the scanning at Utanen and Pälli plants, the sites were most of the time fully operational. This is a clear advantage, because our customers don't need to stop production during the scanning phase. Also, the site noise does not affect the scanning process.
"eSiteview project went well, the scanning experts worked effectively on the site and everything that we requested from eSite was done"

Petra Väisänen, Project Manager for Pälli HPP Units 3 and 1 refurbishment project.
After the scanning part was completed, the system in both plants was ready to be used within a short period of time and the users were satisfied with the results. Thus, after using eSiteview for several months, one of our customers realized that the system can be used for other purposes as well. This means the application possibilities can expand at any time. This is an added value that our solution has.
"This is the first time when we use virtual environments at the plant, and I am very satisfied with eSiteview because I can visit the plant whenever I want"

Jani Pyykönen, Project Manager for Utanen HPP Units 1 and 3 refurbishment project.
Safety walks are another application area where our users benefit from eSiteview. As we all know safety walks are crucial for monitoring and improving safety at power plants. During safety walk managers interact with people at the plant, give positive feedback on good performance and correct unsafe acts. However, when COVID19 started, it was no longer advisable to perform them. One solution was to perform virtual safety walks. However, using VR alone doesn't allow interactions between the interested parties. Therefore, eSite reality capture plays a key role in supporting virtual safety walks because it makes them more efficient as well as the preparations that need to be done before.
"The preparations and selection of the point of interest to do before the virtual safety walks are really important, with eSiteview we can optimize the time during the virtual safety walk"

Igor Tjurlik, EHS Corporate Manager.
Another advantage of using eSiteview that our users mentioned is that it can be integrated to their Manufacturing execution system (MES), maintenance management system, or integrate IoT data to eSiteview. We can, for example, add live signals from the plant to eSiteview and even visualize trends in the face plate, e.g. flow, temperature, power levels, percentages, etc. Further, the data from eSiteview can be used in different AR applications, as the POIs contain location data (X,Y,Z). In other words:
eSiteview adapts to the plant specific needs and helps you visualize and monitor the key parameters of your site, in the right place.
All in all, the benefits of using eSiteview for plants owners are endless. Even banks and organization that are involved in M&As can benefit from eSite solutions. eSiteview enables remote visits to the site and give due diligence teams all the required information to make a well-founded assessment of the asset. This is a win-win situation for the seller and buyer. We will expand more on this topic in our next article. To sum up, our users can:
– Improve the quality of virtual safety walks (better planning prior to the walk and evaluation of the results).
– Improve safety training.
– Save time and resources.
– Optimize M&As (reduces the risk of disputes, claims and legal suites)
– Have an affordable and easy to use solution.
– Have crucial information more accessible to all the interested parties.
– Measure accurately and remotely the dimension of certain areas.
– Give critical information to supplier candidates during tenders.
– Measure accurately key parameters such as: flow, temperature, power levels, etc.
– Optimize production.
– Expand eSiteview application possibilities at any time.
If any of the aforementioned examples sound appealing to you, or you have an idea where eSiteview could be used in your operations, contact us asap. We can demonstrate the benefits that you will have from using eSiteview.
To be updated with our latest news, projects, and success stories, follow us on LinkedIn